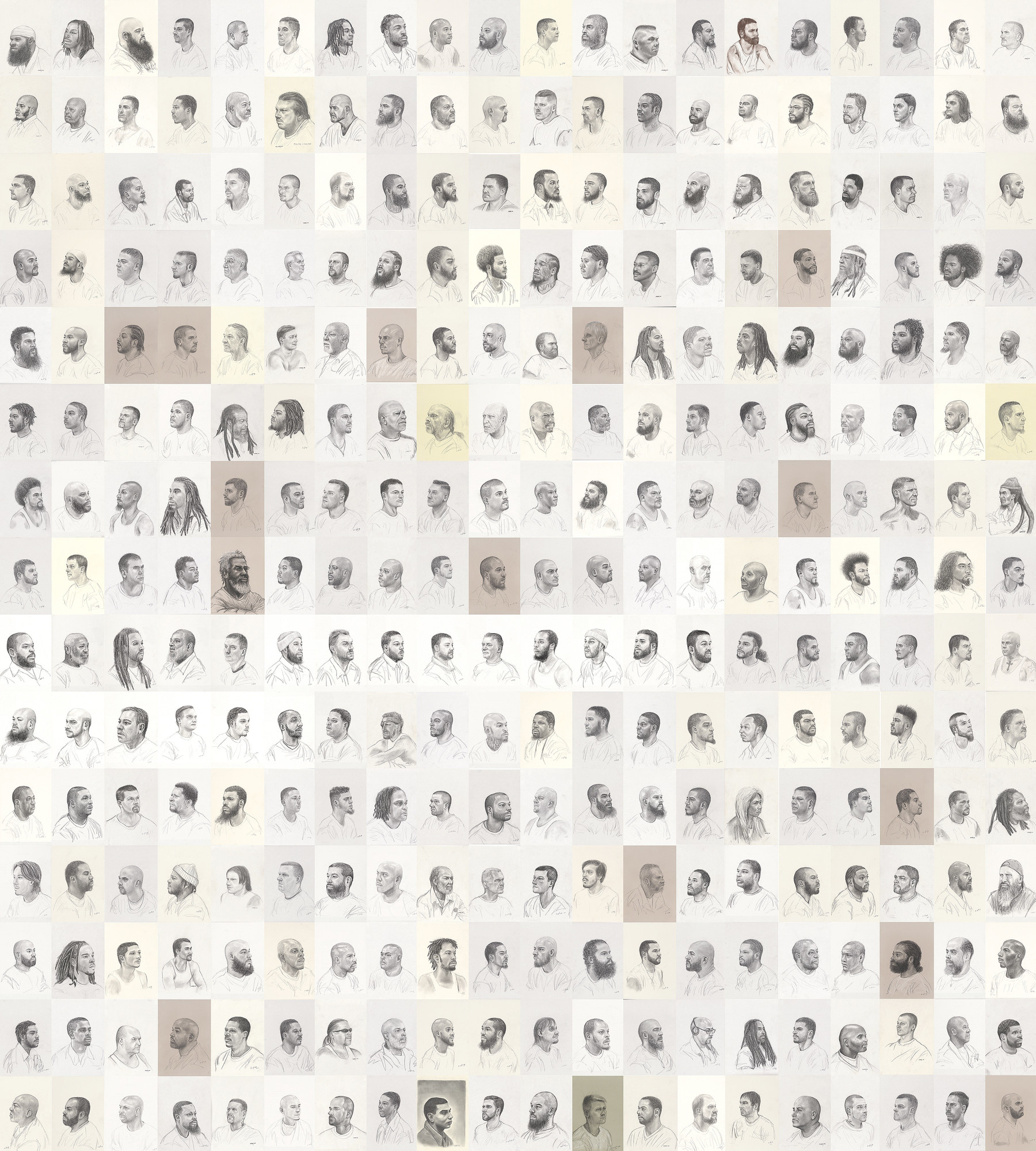 Frank Rubino's letter of invitation and inspiration to the weekly Red Wheelbarrow Poets' Workshop of December 29
Hi Everybody-
I've never found the calendar to demarcate a clear boundary between a bad year and good one (changes creep and flow) but I do like a calendar for scheduling parties. I'm sure people will celebrate somehow when 2021 rings in.
I saw an art show this week at PS1. It was a post-Covid masked, capacity-controlled, and temperature-checked experience, but it felt so good to see art in 3-d and at human scale in a gallery again. Making Art In The Age of Mass Incarceration (https://www.moma.org/calendar/exhibitions/5208) shows art by people, many of them, creating work as prisoners inside the penal system. The constraints of prison life get played out on mundane levels like a lack of art supplies (constraining artists to work with found items like discarded lunch trays or broken windows), but also get expressed in subject matter and in a quality of life which cannot assume access to education about art (in the techniques of making it and strategies of talking about it like this.) The show makes the case that prison life dehumanizes and brutalizes. That's not new but somehow it's always a shock: so much of what our society's built to do is operate these dreadful systems behind illusion and denial. One realizes how well the illusion mechanisms work when one sees work like this.
One piece that moved me very much was a small gallery filled with portraits by the incarcerated artist Mark Loughney. His uniformly sized and composed portraits are tiled across the walls. They're done with pencil, for the most part, on what looks to be 8 1/2 x 11 printer paper. They show his fellow inmates in 3/4 view, reminiscent of Renaissance portraiture. The style is consistently naive but competent, like good examples of "how to draw portraits."  Good enough that you could hear the voices coming from the faces. Without getting too deeply into the details and variations (some subjects masked for Covid, one self portrait in unique blue pencil) etc., I want to call out the quality of attention these portraits represent. Single sittings are 20 minutes, oases of quiet in a chaotic environment; I like to imagine Loughney focusing and opening to his subjects, maybe there's talking, maybe not. Then the session's done and the man is added to the pile of attentions. The attentions accumulate and remain intact.
Gerhard Richter is another kind of artist, and though his circumstances are different (opulent compared to Loughney's), he shares an intense kind of attentiveness with Loughney. In the film, Gerhard Richter Painting (2012) https://www.imdb.com/title/tt1982113/ the artist is shown building up and destroying images. He describes the process something like, "I smear anything on the canvas, and then I have to deal with what happened, change it or destroy it." Over a span of hours, months, years, he marks or squeegees down the painting, steps back and looks for it to reveal a "good" quality. He finds it impossible to define good, except that it's got something to do with truth, and objects or images like old photographs that compel him with their goodness are quite confusing to him, and he keeps them up on his wall as if to puzzle himself. "When I understand an image," he says, "I no longer like it."
These artists' attention is directed to making good works, but it's not the same. In Loughney's case it's about focusing his attention well enough to memorialize (formalize) a proscribed encounter with another person. In Richter's case, he's attending strictly to a developing sequence of events, and the changing object they create.
What do you find yourself doing more: focusing on something particular and writing about it, or writing something, anything, and making it good?
What time spans do you work with? Loughney works in 20 minute bursts; Richter works with endless process.
What does truth have to do with how good your poem is?